I'm in the paper today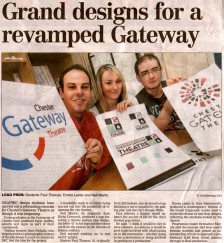 As part of one of my University briefs, I had to rebrand a theatre in Chester named "Chester Gateway Theatre". I really enjoyed the brief because one of my favourite things to do is to brand and rebrand. Logo design in particular is something I really enjoy. Six weeks after the completion of the project, Chester Chronicle interviewer David Holmes and photographer Ian Cooper came in to speak to us about the project for inclusion in the Chronicle. The Chester Chronicle is committed to getting a theatre back in Chester after the Gateway Theatre closed down in 2005. I was lucky enough to be interviewed and photographed with my work and today, my picture was published in the paper.
You can see the logo in all of its glory here. I'll be uploading further promotional pieces that were designed for the rebranding very soon including business stationery and posters.
It's really nice having a chance to display your work to a larger audience, even if the actual logo itself will not be used. I believe it creates more awareness of graphic design in general and of course getting your photo (and perhaps more importantly your name) in the paper is a small step to getting my name out there and giving potential clients more confidence and trust that I can not only get the job done, but to a professional level.