Viral Man: Since then…

With the Viral Man project completely finished, it was time to launch it, but not without a few changes.

Unfortunately, the symptom videos which we filmed were eventually not used as the committee thought that a lot of them weren't as funny as intended. It's a shame, as we thought that they really added to the project, rather than just the one interview video.
Additionally, Hannah had volunteered to dress up as Fresher's Flu, a friend to Viral Man and together they'd infect students. We incorporated this into the script of the interview and Hannah volunteered to don some pink facepaint, pink clothes and even some pink hair extensions to become Fresher's Flu for the day. Unfortunately, this didn't make the cut and the committee requested that the interview video be reedited to remove references to this character.
Viral Man goes live
The Viral Man project was developed in the middle of July/August for a September launch and the committee had always intended us to be present at the student's welcome meeting to introduce the video to them. Both Jerry and Will weren't sure if they'd be around for the welcome meeting and Hannah didn't want to do it by herself at one of the two campuses, but I was really keen on gauging the student's reaction to the video, even if it meant standing in front of a few hundred people.
In preparation for the presentation, I made a very simple PDF with my name on it and some key points. Having sat through a similar welcome meeting when I was a new student, I knew that they wouldn't want to listen to me go on and on and so my presentation would last no more than three minutes, though I had been told I had ten. I wanted to incorporate the video directly into my PDF, but unfortunately, I was told that there wouldn't be time to give me a copy of it to do so. I was assured however that there would be AV technicians on the day to help make the presentation run smoothly.
On Sunday 20th September, I headed over to Chester and watched everyone start to gather in the large sports hall which was now home to around 700 seats. I spoke to one of the committee and she told me that the video was ready to play on disk. I just had to open it up. As I said, I was told that there would be AV guys there who would do that and so I wasn't looking forward to having to close my presentation down, insert a disk and play it. In theory, that sounds like the easiest thing in the world, but when you're on a stage in front of 700 students who just want to go for a drink, it's much harder. I was also told that I would be presenting twice, as there would be two lots of 700 students to speak to. Something which no one had informed me about! This made things twice as nerve-wracking.
Once the hall was full, I realised just how daunting it was going to be to stand in front of everyone on my own. While other staff members had done this on a yearly basis, the most people I had presented to was 30 of my fellow classmates. 700 students was on another level!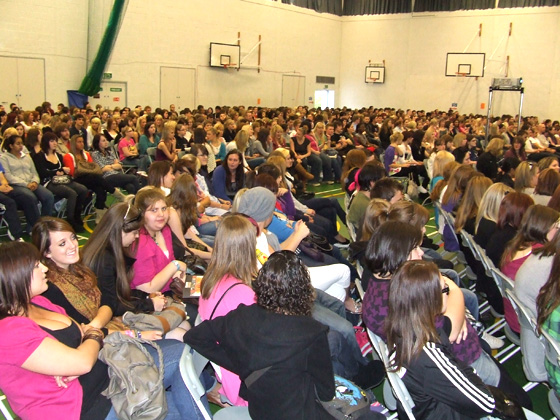 On stage first was the Vice-Chancellor, Tim Wheeler and then followed other important staff, some of which I'd already met. I was up last, right after Gay Rabie had spoken to students about Swine Flu.
When Gay took to the stage and delivered her presentation, the first thing I noticed was that she had used an image of Viral Man in her presentation and while this in itself wasn't a bad thing, it made my introduction of Viral Man a little less pronounced, especially since there was no explanation as to why the image of this green man was in the presentation.
And then suddenly, out of the corner of my eye, I managed to see someone enter the sports hall. As I turned to look at them, I realised who they were. Viral Man. As someone who had been playing Viral Man for roughly two weeks of my life, it was absolutely surreal to see someone else dressed as him. Green face, the same wig I had worn, along with a stripey jumper, black pants and green gloves. And holding a green umbrella.
It was at this moment that I felt just as confused as the students sitting in the hall. I hadn't expected him to make an appearance like this, especially before he had been properly introduced by me but because it was so unexpected, perhaps it worked.
Viral Man began walking towards the front of the hall. You could even say he was strutting, twirling his umbrella as he did so and making his way onto the stage where Gay Rabie was still speaking and coughing as loud as he could. I was bemused and so were the students. And full credit goes to the person who was playing Viral Man as he did a fantastic job.
Gay finished her presentation and suddenly I was introduced onto the stage. I could not believe how nervous I was. My hands were literally shaking. I was very thankful that I had a small script prepared for what I wanted to say and a presentation.
I said hello to everyone and explained who I was and why I was there. "And this is Viral Man", I said to the crowd, but then had to fiddle about with a laptop to get it to play. As I said, this is usually the easier of actions, but when you're literally shaking with nerves, it was like a lifetime waiting for the CD to load.
Finally, it played and I was able to take a 90 second breather as they watched the video. To my surprise they laughed. At the right parts. It's a great feeling to know that something you've created has been enjoyed by so many people.
I would call the presentation a success for both the project and for me personally. For the project because it was a culmination of five weeks worth of work and for me personally because to speak in front of so many people was incredibly nerve-wracking. I knew I would be nervous beforehand but I still wanted to do it because what better way to overcome your fear of something than to confront it?
After the launch
Since introducing Viral Man to students, the project has been featured in numerous press articles including The Chester Chronicle, The National Student and Nursing Times. I also spent a fair amount of time regularly talking to students as Viral Man on Facebook and it was great to see him being mentioned in people's status updates. Additionally, Viral Man was also tagged in a number of photos after students had taken some of the posters from various places just because they wanted them. I think this proves that Viral Man was indeed popular and successful.
In conclusion, my time spent on the Viral Man project was a hell of a lot of fun and resulted in a project that I'm very happy with. Given more time, I would have loved to have built a website around Viral Man to better focus all of the campaign assets such as the videos and perhaps some downloadable content. On the plus side, the Facebook profile for Viral Man proves continually popular, with more people adding him as a friend every day. My only hope is that the people responsible for updating the profile and interacting with students maintains the level of fun and quirkiness that Jerry Clark, Will Bollen, Hannah Bradshaw and myself managed to create over the course of five weeks. A fantastic project to work on.