A visit by the Archbishop of York
Two weeks ago, I began working for the University of Chester, along with three other past students to develop a campaign that will promote awareness of Swine Flu to its new students in September. The project is only four weeks long, but in that time, we are to produce a full poster campaign, website, viral videos and anything else we deem necessary. It's been given the support of the Vice Chancellor, along with many other departmental staff and is essentially completely up to us on how we go about delivering the campaign. It's fantastic to be working on something that will potentially be seen by up to 15,000 students spanning Chester campus and Warrington campus. More information on this when the project is completed.
As part of my responsibilities, I, along with the others that I'm working with were asked to set up a small exhibition for the Archbishop of York, John Sentamu. On Thursday, he opened a new building at Warrington campus and I got to meet him.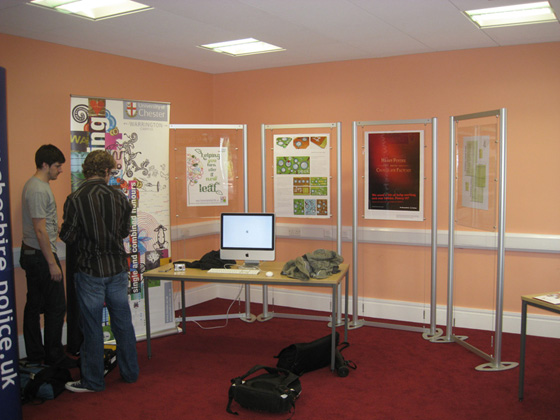 The Archbishop is certainly not what I expected. He's quite down to earth and, well, normal. He spent time speaking with everyone who had taken the time to set up their relevant department's exhibition and seemed interested in everyone. and everything he was shown. It was nice meeting him.